We offer a comprehensive range of advanced and effective treatments for various skin diseases. Our experienced dermatologists Dr. Kiran K C are dedicated to providing the best possible care to help you manage and overcome these conditions. Dr. Kiran K C is the best skin doctor in haldwani. Here is a detailed list of the skin disease treatments we provide:
Acne is a common skin condition characterized by pimples, blackheads, and whiteheads. Our clinic offers customized acne treatment plans that may include creams, medications, and advanced therapies like laser or light treatments. We aim to reduce inflammation, control breakouts, and minimize scarring for clearer, healthier skin.
Eczema, also known as atopic dermatitis, leads to dry, itchy, and inflamed skin. Our dermatologist Dr. Kiran KC creates personalized treatment strategies to manage eczema symptoms, including the use of moisturizers, topical corticosteroids, immune modulators, and lifestyle modifications. Our goal is to alleviate discomfort and promote skin healing.
Psoriasis is a chronic autoimmune condition characterized by red, scaly patches on the skin. Our clinic offers a variety of treatments, such as creams, medications, phototherapy (light therapy), and biologic therapies, to control inflammation, reduce scaling, and manage psoriasis symptoms effectively.
Rosacea causes facial redness, visible blood vessels, and sometimes bumps or pimples. Our dermatologist Dr. Kiran KC develops personalized treatment plans to manage rosacea symptoms, which may include topical medications, oral antibiotics, laser therapy, and lifestyle modifications to minimize triggers and enhance skin health.
Fungal Infection Treatment
Fungal infections like ringworm, athlete's foot, and nail fungus require accurate diagnosis and targeted treatments. Our dermatologist Dr. Kiran KC prescribes antifungal medications, topical creams, or oral treatments to effectively eliminate the infection and promote healthy skin.
Vitiligo is a condition characterized by the loss of skin pigmentation, resulting in white patches on the skin. Our clinic offers treatment options such as topical creams, phototherapy, and surgical procedures to stabilize the condition and encourage repigmentation, based on individual needs and preferences.
Melasma causes brown or gray patches on the face, often triggered by hormonal changes. Our dermatologist Dr. Kiran KC develops personalized treatment plans combining topical creams, chemical peels, and laser therapy to effectively lighten and manage melasma.
Skin allergies can manifest as rashes, itching, or swelling due to contact with allergens. Our dermatologists conduct thorough evaluations to identify allergens and provide treatment options, including allergen avoidance, topical corticosteroids, antihistamines, and immunotherapy, to alleviate symptoms and prevent future flare-ups.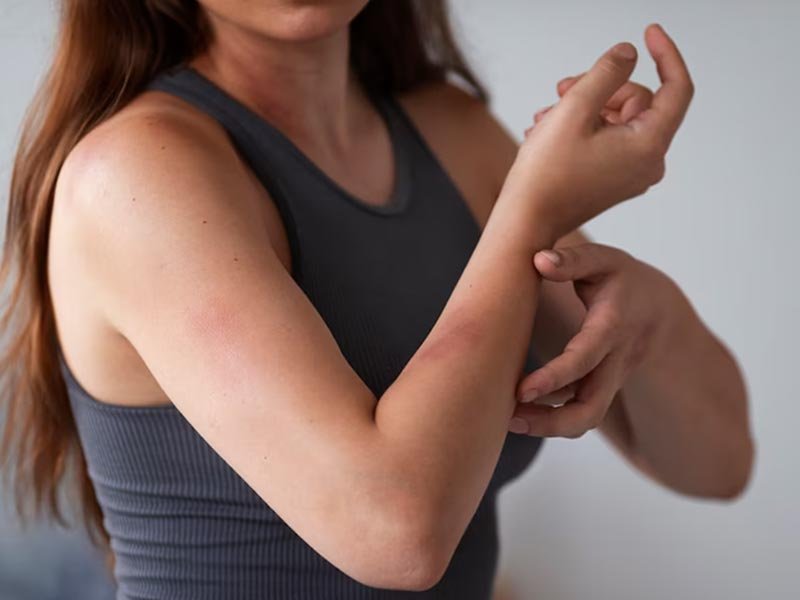 Best Skin Doctor in Haldwani